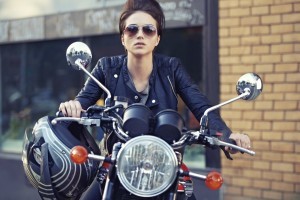 Your motorcycle insurance is not as simple as you may think.  If someone causes an accident and you're injured, you could be left with huge medical expenses and no other compensation.  You need to find out if your policy is working for you or against you.  Your insurance policy is not rocket science, but it does have some details that you need to be aware of that can be tricky.  These details can make a huge difference in what money is available to you.
Remember, the insurance companies are not always your friends.  It is not in their best interest to give you a policy that will pay out large amounts of money.  So your insurance agent may not recommend a policy that will be sufficient to keep you protected in a serious motorcycle accident.
There are three reasons why you may not have the coverage in your policy to pay the medical bills if you are injured on your motorcycle.
1) Insufficient Liability Insurance: You need liability insurance that matches your lifestyle.  Liability insurance pays other people if you injury them in a wreck.  You don't want your personal property to be at risk.  If you don't have liability coverage that protects your savings, earnings, and other assets, they can be taken from you to pay for the damages you caused.  The Arizona minimum coverage is $15,000/$30,000.  This will not be enough if the damage you cause is serious.  Just the initial hospital bills can be in excess of $10,000, even if the injures are not severe.
2) Lack of Uninsured and Underinsured Coverage: To many people carry liability insurance but fail to get proper uninsured/underinsured coverage.  If someone injures you on the road and they don't have adequate coverage (very common in Arizona) you will be left with nothing if you do not have uninsured/underinsured coverage.  Understand that if you are seriously injured by someone else on your motorcycle, you will be left with your own medical bills unless the other party has a good policy.  Do you really want to risk it in a state like Arizona where many people drive without even the minimum policy requirements?  You will likely want to match the amounts you get with your liability coverage in order to insure you are not at risk.
3)  Fail to Get Medical Payments Coverage: You want Medical Payments, or set aside money that will pay for medical expenses whether the accident was your fault or someone else.  Typically, insurance companies will provide $1,000 to $10,000 and up for medical payments.  Having at least $5,000 in "medpay" is not only smart, but will make certain you have money fast if you are in an accident.   This money will go to you quickly to cover injuries and lost wages whether it was your fault or not.
So if you haven't looked closely at your policy lately, make sure you are not risking it all and call your agent.  If you have any specific questions, call the Kelly Law Team at 602-283-4122 or visit us on the web at jkphoenixpersonalinjuryattorney-dev.com