Autism Scholarship Contest
Kelly Law Team
Congratulations to Evan Koutsopetras our winner.
For the fifth time in as many years, the Kelly Law Team is pleased to announce that it will be awarding an educational scholarship. The amount of the scholarship is $1,000, and it is designed to help enable the winner to continue their educational endeavors. Also, for the fourth time during this period, the scholarship contest will be open to persons who have been diagnosed with Autism Spectrum Disorder. The scholarship fund will be applied against the cost of tuition at the college, trade school or graduate school chosen by the successful applicant. We believe strongly that tuition assistance presents a compelling incentive to those with ASD to continue with their education, despite difficulties encountered because of ASD, and to provide a positive influence which will make it easier and more likely that the individual will pursue his or her ultimate educational goals.
2021 Contest is closed. The winner is Evan Koutsopetras.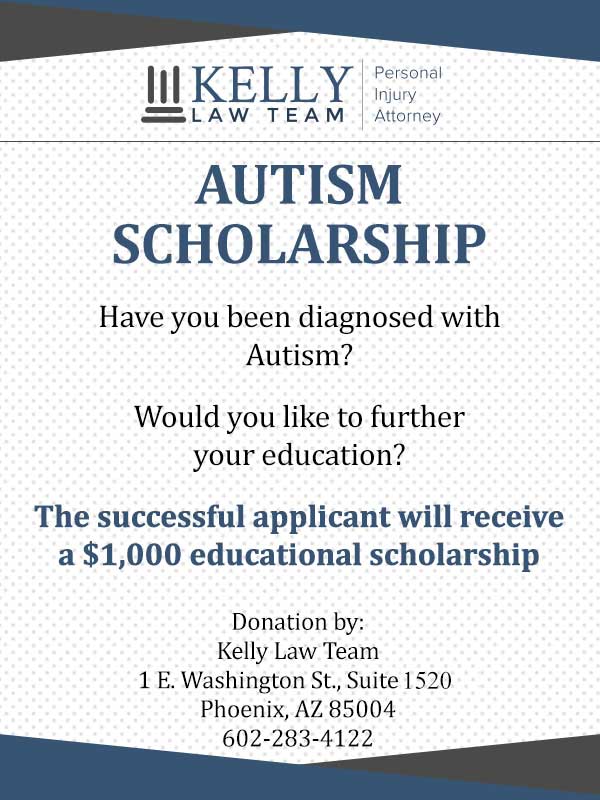 Who is Eligible for the Scholarship?
The scholarship application is available to citizens of the United States who have been diagnosed with Autism Spectrum Disorder, and who are interested in pursuing their educational goals beyond their present level. This can be at a college or university, a junior college, or a trade or vocational school. There is no requirement that an applicant be attending or be enrolled at school at the time of the submission of his or her application.
Submission of Application, Application Deadline and Announcement of Award
Your application must be received by us no later than December 10, 2021. The application consists of (a) the completed form below, (b) a statement consisting of up to 100 words explaining how continuing your education will advance your career goals, and (c) an optional essay of up to 1,000 words recounting how ASD has had an impact on your educational goals to date (emailed to [email protected]). We may, at our discretion, request evidence of your ASD diagnosis.
The winner of the contest and the $1,000 scholarship will be announced by us on or before January 7, 2022. The selection of the winner will be at the sole discretion of the Kelly Law Team. The scholarship funds will be paid directly to the school chosen by the successful applicant.
Privacy
The information you provide to us will not be sold to any person or company. We may utilize the information, however, to publicize or to report on our scholarship program, or to comply with any legal requirements. Once submitted, your application becomes the property of the Kelly Law Team.
Any questions?
If you have any questions or concerns about the scholarship, the application, or any related matters, please contact, via email if possible:
Kelly Law Team
1 E. Washington St., Suite 1520
Phoenix, AZ 85004
602-283-4122
email [email protected]
2021 Contest is closed. The winner will be announced soon.
2019 Autism Scholarship – is closed
Congratulations to our winner Mason C