Autism Scholarship – 2015
Our new contest can be found here: https://www.jkphoenixpersonalinjuryattorney-dev.com/autism-scholarship-contest/
We are no longer taking submissions for the autism scholarship. We want to thank everyone for their submissions and the winners will be posted on this page on July 11th.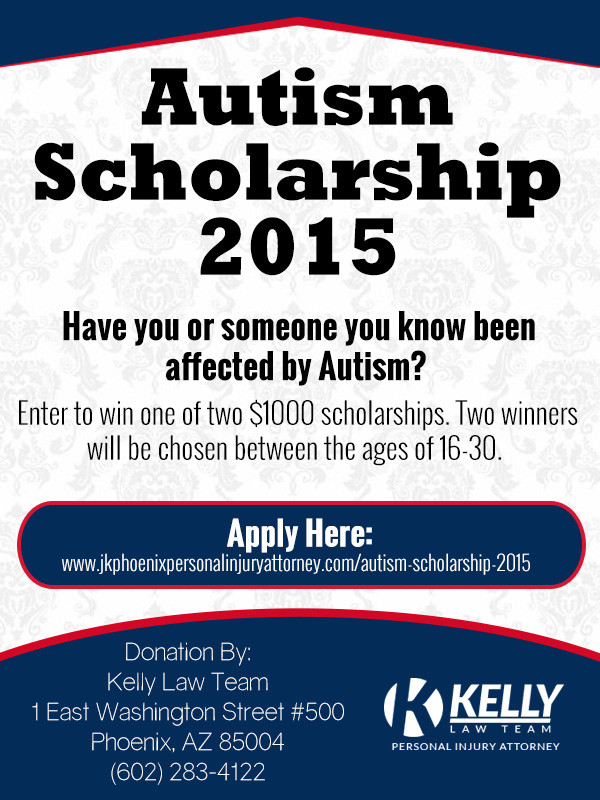 Current entries
---
The Kelly Law Team is providing two $1000 scholarships for individuals directly affected by autism. These scholarships are available to anyone who has autism, ages 16-30 and will be awarded on 7/1/2015. (Must be 16-30 years of age on 6/30/2015).
What can the scholarship be used for?
Any secondary education such as community college, trade school, college, etc. The scholarship will be paid out as a cash check to the individual with proof of enrollment in the educational program of their choice within 9 months of being awarded the scholarship.
Who can apply?
Must be diagnosed with Autism.
Must be 16-30 years of age (as of 6/30/2015).
Must be a US or Canadian resident.
How do I apply?
Print, sign and mail the disclosure on the bottom of the page to:
Kelly Law Team
1 East Washington Street #1520
Phoenix, AZ 85004
Submit a 600-850 word article (in Microsoft Word) providing your "story". This can be why you deserve to win, how this can affect your life, anything, but it should be inspirational and ideally grab peoples attention.
(Optional) Submit a video with your article.
Article must be submitted by 6/30/2015
Who will be chosen for the scholarships?
Once we receive your disclosure, your article and your video (if you submit one) we will post the information to a page on our site. We will send you the link to the page and more specifics on what we are looking for and tips on how to win.
However, the winners will be those people who get the most "activity" related to their story. Ideally your story would go viral, but obviously you could share with your social media friends, your email list, etc.
Since total activity is the objective, you might decide to be funny with your article/video, maybe serious or inspirational. Whatever you think will drive the most attention to your story.
Rules
The scholarships will be awarded on July 1st and those participants will be notified within 10 days. They will also be listed on this page of the website.
Content must be 100% original and no areas copied from anywhere else. Content will be run through software to check for duplication/plagiarism and if found the entry will be removed.
Content must not be controversial.
Additional details and rules will be provided upon entry.
Download the 2015 Autism Scholarship Disclosure
Help
If you have specific questions or need assistance please post the questions to the form above.