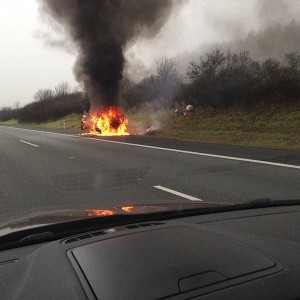 A jury in the small, upstate New York town of Bainbridge has awarded the plaintiffs damages in the sum of $150 million for the loss of their 4-year old son in a 2012 car accident.  The youngster was being driven to a sports lesson when the 1999 Jeep Cherokee in which he was a passenger was hit from behind by a pickup truck.  Interestingly, the driver of the truck was, according to the jury, liable for only 1% of the damages.  The real culprit, they found, was the design of the Chrysler-manufactured Jeep Cherokee.
In the Bainbridge case, it was undisputed that the child died not from the impact of the rear-end collision itself, but rather, as the result of the Jeep bursting into flames after the crash.  The plaintiff contended that the problem was the location of the tank, which is less than a foot from the rear of the vehicle, in what is referred to as the "crush zone."  The evidence against Chrysler included showing that the Jeep's rear-mounted fuel tank was the cause, according to federal documents, of the deaths of at least 75 people who died in post-crash fires.
Design defects often contribute to injuries and deaths.  CBS News has reported that, according to a former Administrator of the National Highway Traffic Safety Administration, the design of the Cherokee fuel tank, as well as design of the entire vehicle, was defective. According to the attorney for the plaintiffs, there was also evidence in this case that Chrysler knew of the defect.  This fact apparently contributed to a finding by the jury that Chrysler acted with a reckless disregard for human life.
Chrysler has indicated that it plans on appealing the jury verdict.  According to a spokesman for the auto manufacturer, the company was prevented during the trial from introducing certain evidence concerning data submitted to the NHTSA on rear impact accidents.  We'll keep an eye out for further developments.
Phoenix Car Accident Laywer
Kelly Law Team
1 E Washington St, Suite 500
Phoenix, AZ 85004
602-283-4122